Selkirk Direct-Temp Vent System

The PFG 060 uses a ULC certified direct vent system. This minimal clearance venting- Selkirk Direct Temp Venting System, consists of a 4" stainless steel pipe suspended in a 6 5/8" pipe and completed on the exterior of the building with a decorative cone cap.
Direct-Temp features a Stainless Steel inner liner, silicone woven fibreglass gaskets and a unique clean-look design. Selkirk Direct-Temp is designed for maximum safety, long-life, excellent value and performance.
Selkirk Direct-Temp Vent System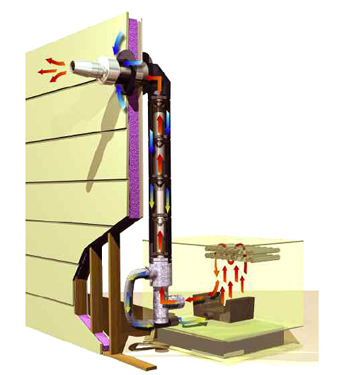 This one-of-a-kind system is two vents in one. The 304 stainless steel inner pipe vents exhaust gases out while the outer pipe supplies fresh outside air into the stove. This outside air is preheated for high efficiency combustion.
Direct-Temp also features a siliconized fiberglass seal which adds an extra layer of protection to prevent joint leakage of fly ash and combustion products. No sealant is required, so installation is quick as the chamfered edges permit an easy slide-together assembly. The LockTab feature securely locks the sections of pipe together while allowing system components to rotate easily for alignment. The heavy duty centering brackets, which are not welded or riveted in place for a smooth outer profile, keep the inner pipe centered and allow it to float for better thermal expansion and contraction. With one inch clearance to combustibles, Direct-Temp is ideal for both sidewall and through-the-roof venting solutions, and has been engineered for optimum system performance. Selkirk's Direct-Temp is backed by the manufacturer's limited lifetime warranty.
Featuring:
Single pipe design integrates both air intake & flue gas exhaust
Siliconized fiberglass seal
1" clearance to combustibles
304 stainless steel inner liner
LockTab joint security
Pipe rotates easily to align system components
Quick no-sealant needed installation
High efficiency performance

Documents
www.selkirkcanada.com
*Prairie Fire Grain Energy Inc. has obtained all information from Selkirk Canada with permission.